VISTING THE GALLERY
"Why do I have to make an appointment?"
We are getting this question a lot and the short answer is: We don't want you to stand in front of closed doors. We are not always at the gallery and if you call ahead (and that's all we ask) we can make sure that someone is there to show you around.
Please call (760) 346-4243 option 1. If we are at the gallery and not busy with other clients, you can always stop by.

Please let me explain: We are not a traditional retail art gallery. Our gallery is a working space and sometimes our work takes us away from the gallery. We advise and consult our clients in their homes and our days are filled with construction site visits, meetings with designers, architects, and developers. Many times a year we are traveling to showcase our art at one of the important national and international tradeshows like Art Miami. When we are in the gallery and we are not in a meeting with one of our clients or prospects, we often shoot video for our next online campaign and install art that collectors are coming to see in person. We are a small team and we love to give our clients undivided attention and provide a superior art buying experience, but unfortunately, that means we cannot always accommodate walk-ins at all times. If you are in the area and want to visit, all we ask from you is a quick call to the gallery to make sure we are there and have time.
Time for you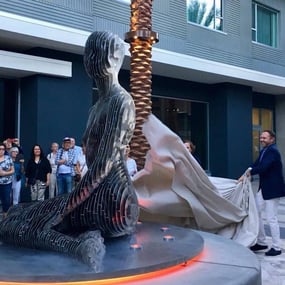 If you are shopping for art, if you like a specific artist, if you are getting ideas for a specific space in your home or if you have a project for us, then making an appointment has great benefits:

We can set time aside for you, listen to you without rushing you through the process, and answer all your questions. We can give you access to our inventory with pricing ahead of time, so we can prepare for viewing any- and everything you would like to see in person. With more than 1,500 works of art in our inventory (the largest in the Coachella Valley), we only have very few works on display. If you allow us to be prepared for your visit, you will find it to be most enjoyable and efficient. We are always available by phone to speak before you stop by, so you can tell us what you are looking for.
I can promise you that we are very low-key, easy-going and zero pressure. There is no sales pitch, no phrases, only guidance, and experience. My father started the gallery in 1976 out of a passion for art and I have continued in the same spirit since 1993 when I joined the family business. We love art, we are passionate about the artists we represent, and strongly believe that art cannot be sold. Instead, we feel that we can only introduce you to great art and hope that you will feel the same and fall in love with it, as we have. We are completely transparent with pricing and there are never any surprises.
Just curious!
If you are just curious to see the gallery, we would like to invite you to one of our many events. They are the best way to see the gallery without having to make an appointment and it's the most fun way to experience the gallery. (Hint: you get to drink champagne!)
Exhibitions
We are still hosting exhibitions because it is my ultimate passion, but our gallery is a working space, so they are no longer on display for weeks on end. We usually have an opening event and then a few days thereafter where you can visit without an appointment. Please let me know if you are interested and I'd be happy to add you to our invitation mailing and e-mail list.
In closing:
Look, I know it sucks having to make an appointment when you are used to seeing art at your leisure everywhere else. I don't like to make appointments either, but please believe me that it is as easy as calling (760) 346-4243 option 1. And I promise you, it's worth it. If you are in the market for a work of art, you will not be disappointed. Don't make any buying decisions until you have seen what we have in store.
So please, call me today and if we are here, we look forward to seeing you!
Yours truly,