Mohamed Abla
Egyptian artist Mohamed Abla creates imagery that spans from realistic depictions of people in the streets of Cairo to paintings that were inspired by 1950 photographs of his family photographs to cultural renditions of the hieroglyphs and other iconography of his native roots. He is like a guide who shows us an Egypt we wouldn't see as a tourist.
His passion for his country is not only seen in his artwork but has spanned to socio-political realm where he has oftentimes risked his safety through an adamant promotion of culture and contemporary art. His convictions about exposing his people to the treasures of art and determination towards being able to teach its history and encourage its future are admirable.
Whether viewing his early watercolors, black and white paintings, Chaos paintings, Nostalgia paintings or depictions of life at the River Nile, we are given a rich and comprehensive glimpse into the roots of the artist, his people and the rich Egyptian heritage both past and present. There are only a handful of Egyptian artists who are recognized outside of Egypt but Abla is one of the few who is world-renowned for his attempts at building cultural bridges through the medium of art.
Because of his long career, passion for the cultural climate of his country, and prolific output, he was chosen as one of the artists to participate in a major exhibition of Egyptian contemporary artists of the millennia, which traveled extensively to museums throughout Europe.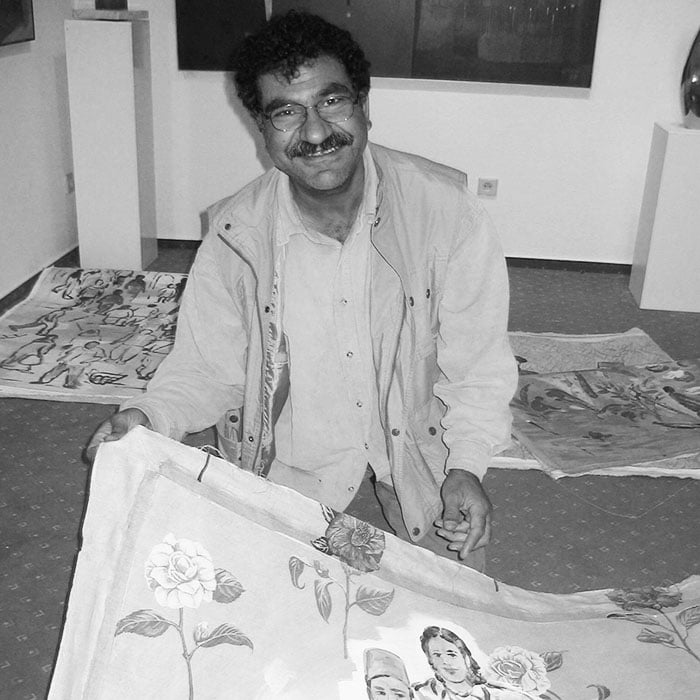 AVAILABLE WORKS
Below you can see examples of artwork, many of which have already sold. If you would like to see a list of available inventory, please fill out the form below and we will send you a list. If you already have a password to our inventory website my.hohmann.art you can see it there as well.
REQUEST AVAILABLE INVENTORY
INTERESTED?
Are you interested in this artist, but not ready to move forward yet? Please click the button below and fill out the form. We will keep you informed about gallery activities and any news about this artist, including exhibitions and new arrivals. And we will be here when you're ready.
I'M INTERESTED!
more about this artist
Biography
Mohamed Abla was born in 1953 in Egypt.
Renowned Egyptian artist Mohamed Abla, winner of the 1998 Biennial, is a man of curious character and many faces. He has an intense desire for expressing feeling through his paintings. As a young artist he traveled the world, almost detached from his native ties, reluctant to settle in one place. Abla had to struggle his way through college by painting houses in order to make just enough money for his tuition and bare necessities. Graduating at the top of his class in 1977, he took part in Egypt's "Young Artists Exhibition," winning the grand prize. He traveled and painted through Spain and France experiencing first-hand the great museums of Europe. With an enhanced competence in his abilities, Abla moved onto Germany where he once more toured the extensive galleries. Finding one gallery owner, he showed his work and was transported to elation by the owner's enthusiastic response. "He saw my sketches, loved them, bought them and asked if I would put on an exhibition." Six more exhibitions followed in the next 2 years. Germany was definitely the turning point in his life and is fast becoming his second home. Abla says that he has an internal feeling that art is the key to bringing cultural and environmental awareness to people.


Drop us a line or give us a call and we can take you through the process of purchasing. We have sold thousands of works to several thousand happy clients and collectors and we look forward to working with you!
send email